Typewriter Key Bracelet All Light Keys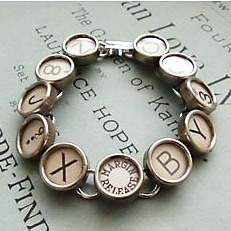 Typewriter Key Bracelet All Light Keys
Typewriter Key Bracelet
This design features all light colored typewriter keys, and uses only authentic keys removed carefully from typewriters. This bracelet makes a unique gift or keep it for yourself.
Silver color link bracelet base.
See pictures for sample bracelets, but due to the varying characteristics of antique typewriter keys, every piece is unique.
All bracelets will have combination of numbers, letters, symbols, words, etc.