CUSTOM Vintage Typewriter Key Cufflinks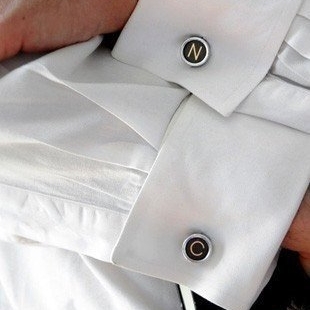 CUSTOM Vintage Typewriter Key Cufflinks
Typewriter key cufflinks featuring your choice of keys.

Made with your choice of light or dark typewriter keys.

I use only authentic keys removed carefully from typewriters. Each finished piece is a unique work of art and makes a great gift or something special for yourself. Because real vintage typewriter keys are used, appearance may vary, and keys may show signs of use/wear, adding character to every piece.
Your piece will vary from picture shown.
TYPEWRITER KEY CUFFLINKS! THESE WERE FEATURED IN MARTHA STEWART WEDDING LAST SUMMER! WHAT A UNIQUE GIFT FOR YOUR GROOMSMEN OR FOR THAT SPECIAL MAN IN YOUR LIFE? HEY, YOU COULD JUST GET THEM FOR YOURSELF TOO! CHECK OUT MY PICTURE OF THE GROOMSMEN FROM A RECENT WEDDING...I MADE 10 PAIRS OF CUFFLINKS FOR THE WEDDING PARTY...THEY WERE A HUGE HIT!!
YOU CHOOSE THE 2 KEYS YOU WANT, AND I WILL MAKE THEM FOR YOU. I USE ONLY AUTHENTIC KEYS REMOVED CAREFULLY FROM ANTIQUE TYPEWRITERS. I ALSO USE A SILVER COLOR CUFFLINK BASE.

I ALSO MAKE MANY OTHER ITEMS FROM ANTIQUE TYPEWRITER KEYS INCLUDING WATCHES, BRACELETS, NECKLACES, EARRINGS, PINS, STICK PINS, HAIR PINS, BOOKMARKS, MONEY CLIPS, AND RINGS. PLEASE ASK IF YOU ARE INTERESTED IN ANY OF THESE PRODUCTS!

ALL ORDERS BASED ON AVAILABILITY OF SPECIFIC KEYS IN STOCK. PLEASE INDICATE IF YOU PREFER BLACK OR LIGHT COLORED KEYS (DIFFERING SHADES OF WHITE, OFF WHITE, TAN,
GOLD, OR YELLOW) OR ONE OF EACH WHEN ORDERING. THANKS!